Big Fish
An adventure as big as life itself.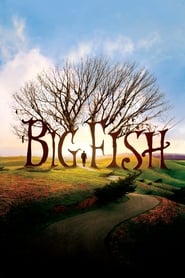 Synopsis:
Throughout his life Edward Bloom has always been a man of big appetites, enormous passions and tall tales. In his later years, he remains a huge mystery to his son, William. Now, to get to know the real man, Will begins piecing together a true picture of his father from flashbacks of his amazing adventures.
Director
Carlos De La Torre, Janna Stern, Katterli Frauenfelder, Stéphanie Champault, Tim Burton, Vanessa Mujica
Stars
Albert Finney, Alison Lohman, Billy Crudup, David Denman, Ewan McGregor, Helena Bonham Carter, Jessica Lange, Marion Cotillard, Matthew McGrory, Robert Guillaume
Awards
Nominated for 1 Oscar. Another 68 nominations.
Budget
USD $70 000 000,00
Revenue
USD $122 919 055,00